The price is for 1 meter of Neon Strip.
If you require more than 1 meter, just select the appropriate amount at checkout.
Our Mini range of LED Neon Flex is ideal for detailed sign lighting, much more flexible than our larger standard range. Available in a full color range in 12V.
Unlike traditional glass tube neon lights, these neon flex lights are shatterproof and can be bent into any shape.
LED Neon Flex can be used indoors and outdoors (IP67, UV stabilised) . It is perfect for architectural illumination as it provides high performance and ideal for highlighting architectural perimeters and outlines.
Application:
-movie theatre lighting
-landscape lighting
-cove lighting, -retail store lighting
-bar/club lighting
-signs
-roof edging
-storefronts
-counters
Available Colors:
Cool White
-Warm White
-Red
-Pink
-Green
-Blue
-Yellow
Specifications Single Color Neon:

LED Model: SMD 2835
LEDs per meter: 120pcs
Lumens :20-22 lm/m
Dimension: W5mm x H12mm
Can be cut every 2.55cm
Working input voltage : DC12V
Life span: MTBF> 30.000 hours
Power dissipation: 9.6W per meter
Working temperature:-20℃ to 50℃
IP Rating : IP67

180 deg bendable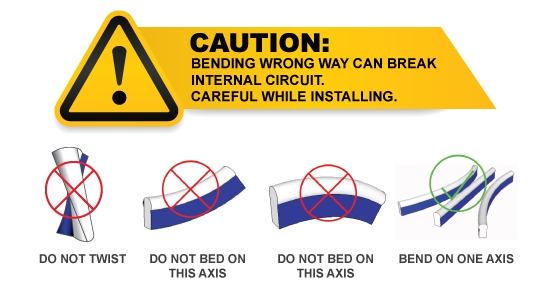 Aluminium Channel 200cm Available